Thanks for your enquiry
Thanks for your quote. We will be in touch as soon as possible.
Protect and Enhance your Project with a CSS Sealer
Specify the Penetring Sealers where a natural raw look is desired. Alternatively, specify a Surface Coating Sealer for full surface protection and deeper colour enhancement.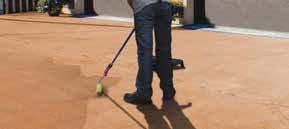 Penetrating Sealers for retaining the Raw Natural look
CCS Stainblock Enricher
Water based
Provides the best of all worlds. It provides great resistance to oil and water, enhances the colour, but doesn't alter the slip resistance of the surface texture.
CCS Streetscape
Water based
A more economical version of CCS Stain Block without any colour enhancing properties.
CCS Stain Block
For optimum penetration
The formulation of this premium sealer is unique and is designed to penetrate to greater levels than the above two CCS sealers. It is ideal for dense concrete surfaces and natural stone such as travertine, granite and sandstone.
Depiction of the subtle effect 'penetrating' sealers have on surface colour.
These examples show the same coloured concrete before (far left) and after treatment with each of the three penetrating sealers.
Surface Coating Sealer
CCS Armourthane
A very tough, high solids solvent based polyurethane. It provides excellent wear and checmical resistance on all light commercial flooring type applications.
CCS Decrathane Gloss
A water based version of CCS Armourthane, with a reduced effect on surface colour enhancement
CCS Hi-Build Enduro Acrylic Sealer
An all purpose economical sealer with good gloss retention. Best suited to residential type applications or on commercial jobs, where a low cost, relatively simple surface protection is required.
Depiction of the more noticeable effect 'coating' sealers have on surface colour.
These examples show the same coloured concrete before (far left) and after treatment with each of the three surface coating sealers.
The Physical Difference between a 'Penetrating' and a 'Surface' Sealer
The penetrating sealers 'sink' into and cover the inside of the pores of the concrete.

A film-forming sealer covers the whole surface area

A Coating where rapid return of floor to service is required
CCS Rapid Floor Polyaspartic Sealer
These 87% solids, extremely tough, low odor product is purpose-designed for coating commercial floors where return to service time is paramount. The product is tack-free within 45 minutes of application, it can be walked on after three hours and the floor can be returned to pedestrian service by the next day.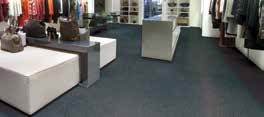 Generating Great Project Outcomes
In partnership with the leading concrete manufacturers and specifiers, CCS has provided the colour component to iconic projects around Australia since 1994. With excellent pigments and comprehensive technical support, concrete suppliers and specifiers know that they can rely on CCS to generate great project outcomes.

Please contact the CCS team if you require advice on any aspect of creating highly appealing decorative concrete.
High strength pigments made to endure

Only pure, high-tint strength, long lasting pigments are used to create CCS Pigment Concentrates.

CCS Pigments consist of blends of synthetic icon oxides, titanium dioxides, chrom oxides and cobalt aluminium with maximum resistance to UV light and the aggressive alkaline conditions in concrete. They are manufactured in accordance with a Quality System certified to ISO 9001 and conform to the relevant world standards for pigments.
Mix and match different surface finishes for contrast and greateer interest
When the concrete surface is purposely removed in creating honed or exposed aggregate finishes, the sands, and stones used in the mixture have a significant bearing on the final coloured appearance.

Consequently, a relatively easy way to create greater contrast whilst using a single pigment colour is to vary the surface finish.
trowelled surface finish with ccs caramel
exposed aggregate finish with ccs caramel
This effect is demonstrated above where the same colour was used to create a trowel finish on the left and on the right - where the surface was subsequently exposed.
Three tones of black to choose from
CCS offers the choices of an elegant blue-black, a warm brownish-black tone and a neutral shade. By varying the quantity added to each cubic meter of concrete, further tonal differences or contrasts can be generated on your project.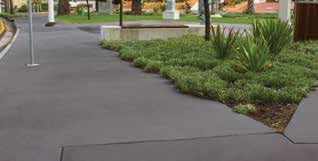 Access special colours with CCS
The CCS colour lab is equipped to provide custom concrete colours for architectural requirements. Simply forwards us a sample of your desired colour outcome (such as paint swatch, tile or paver), and our technicians will match it for you.

Due to production equipment limitations, please no that there is a minimum order requirement of 500kg of pigment (suitable for approximately 500m2 of concrete) for 'special' colours.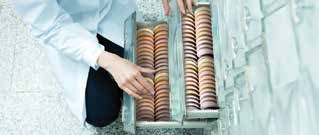 RICH PIGMENT BLENDS FOR FULL DEPTH COLOURED CONCRETE
Grey Cement Colours
Off White Cement Colours
How to use this colour card in order to receive your nominated concrete colour?
Each of the enclosed colour swatches was matched to real-life samples of concrete.

All you need to do, is advise your concrete produced, builder or decorative concrete placer which CCS Colour you desire - and refer them to this colour card. The concrete producer will liaise with CCS to arrange for the necessary amount of the nominated colour to achieve the correct percentage dose to be delivered to the concrete plant closest to your job site.

The concrete producer will add the pigment in bags (typically 9-12kg in weight) to a special concrete mix recipe designed for decorative concrete. The preweighted and preformulated bags of CCS pigment will be added to the concrete mixer at the plant in the percentage dose as listed under the colour swatch.

Once mixing is completed, the colored concrete will then be delivered to your job site for laying by an experienced decorative concrete placer.
Possible variations between colour swatches and final concrete colour
The enclosed colour swatches were accurately matched to laboratory manufactured concrete samples using the prescribed addition rate of bags of CCS Pigment per cubic meter of concrete.

As coloured concrete is an applied finish, slight variations in colour between the colour swatches and the actual concrete is to be expected. The key reason being the variations in the colour of local sands, aggregates, and cement that is unique or native to the location of your concrete company in the various states of Australia. Other critical reasons include finishing techniques used to place the concrete and environmental conditions when the coloured concrete is placed.

Consequently, where it is essential that foreknowledge of the final colour is needed, a representative job site sample should be prepared prior to the start of the actual job. The site sample should be created using the intended raw materials, finishing techniques and desired sealer by the preferred contractor.

This sample should then be reviewed and approved once the sample has cured for 14 -28 days.
CCS Graffiti Guard Sealer – water based with a natural appearance
CCS Graffiti Guard provides excellent resistance to the staining of graffiti on walling or façade applications. Water-based, low odor and purpose-designed for decorative concrete, it provides a relatively natural-looking coating which has a minimal impact on the raw aesthetic of concrete.
ccs graffiti guard sealer
ccs concrete graffiti guard makes graffiti removeal easy
leaves concrete looking like new after graffiti removal
POPULAR SURFACE FINISHES FOR CREATING OR ENHANCING THE CHARACTER AND FEE OF DECORATIVE CONCRETE
A pitted or 'volcanic stone' look is created with CCS imprint mats or by adding 10mm grains of rock salt to the wet surface.
Removes the surface layer by grinding, revealing a smooth, high end, polished concrete finish.
Large stamping mats that can be pressed into wet concrete to create unique patterns and designs.
The concrete surface is mechanically honed and then polished using fine abrasives. The survace result is extremely smooth, glossy and reflective.
The use of a coving trowel to finish concrete creates a timeless surface to areas requiring additional texture.
saw cuts or grooved lines
Create geometric patterns with grooved joint lines in wet concrete, or by cutting the surface with a concrete saw once it has cured.
A smooth 'polished' appearance. Please note that this technique may create slight variations in colour and will not show aggregate.
Objects such as plants can be placed in wet concrete and removed once it has cured, to leave beautiful base relief imprints.
Ideal for embedding symbols, logos or unique patterns, this method removes the top layer of the cured concrete to reveal a sandy finish.
Broom finishes create a textured, lineal appearance for areas requiring additional surface texture.
Specify your preferred level of aggregate 'exposure'
CCS Pro X-pose 0.5mm coarse sandpaper finish
CCS Pro X-pose 1.0mm light sandblasted finish
By applying one of the two types of CCS Pro X-Pose immediately after trowelling wet concrete, you can achieve a predictable and repeatable level of 'aggregate exposure'

A 'sandpaper' type finish can be achieved with CCS Pro X-Pose 0.5mm, while greater aggregate exposure similar to light sandblasting can be achieved with CCS Pro X-Pose 1.0mm.
| | |
| --- | --- |
| Dangerous Goods | No |
| Unit of Measurement | No |
| Brand | No |
| Allow Rewards | N/A |